Search Engine Optimization (SEO) is a set of approaches that use content and technical practices to make a website search engine friendly and enables it to be crawled and indexed by search engines. SEO makes websites easily discoverable through search engine algorithms and rank them higher on search engines platforms like Google, bing, duck duck go etc.
SEO is a productive mechanism but it's a time-consuming process and it requires an expert level skill and knowledge set to get it right, however, the good news is that there are several SEO tools out there, some free and some paid, that can help businesses set their SEO process right and secure high ranking positions. Hence, the game plan of this article is to focus on a few hand-picked best SEO tools that help to simplify and supercharge the website.

Need reliable data on your search rankings or confused which SEO tool is best? Here are some of the hand-picked best SEO tools for your wordpress websites.
Google Search Console, also known as Google Webmaster Tools, is a best SEO tool for monitoring how Google views your website, including everything from clicks to impressions to CTR percentage and average page position. The primary step involves verifying your website by adding code or going through Google Analytics to submit your sitemap for indexing. In turn, Console provides reports on web search appearance, HTML improvements, increased organic search traffic, monitored link reports, Google index, web crawling and page experience.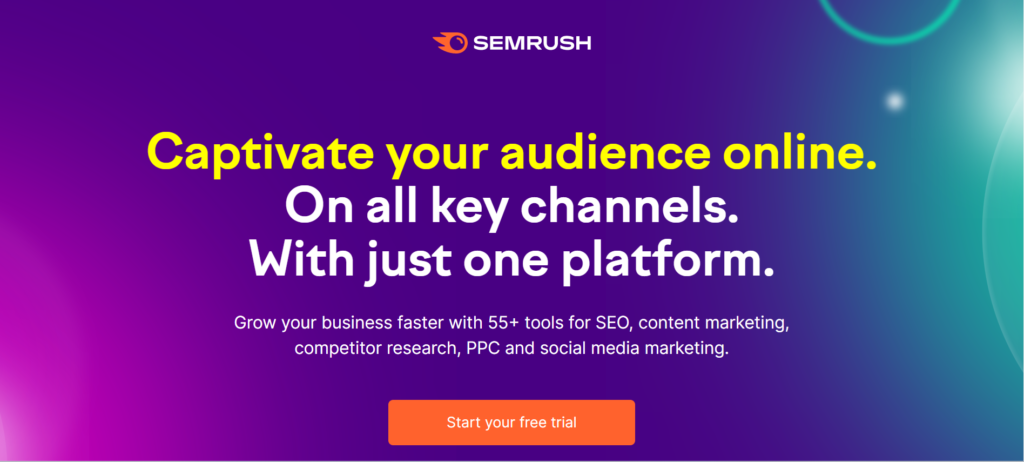 Semrush is one of the best SEO tools, providing analytics reports on keyword difficulty, monthly search volume, tracking the keyword positions of your competitors, performing an SEO audit of your website, tracking backlinks, and much more. Semrush has a massive database of over 20 billion keywords, 808 million domains crawled and has been one of the most favourite SEO tools for many marketers. Though they are a little expensive, you can get started with a 14-day free trial if you wish to test out the premium features.
Price: 14 days – free trial, $119.95/ monthly for Pro, $229.95/ monthly for Guru, or $449.95/ monthly for Business
Ahrefs, one of the largest website crawlers after Google, is an all-in-one recommended best SEO tools for keyword research, rank tracking, competitor research, an SEO audit, viral content research, and optimising websites. To do that, Ahrefs crawls the web, stores tons of data, and makes it accessible through a simple user interface. Ahrefs is predominantly known for its backlink checker because it has one of the largest databases of live links and uses its crawling software to recreate your site and how a search engine sees it. This allows you to better understand your website and optimise it for search engines. 
Price: $99/ Monthly for Lite, $199/ Monthly for Standard, $399/Monthly for Advanced and $999/ Monthly for Enterprise  
The Screaming Frog SEO Spider is considered one of the best SEO audit tools online by many experts. The Screaming Frog's website crawler helps you improve onsite SEO by extracting data and auditing for SEO complexities and potential issues. Advantageously, the Screaming Frog SEO Spider is a fast and advanced SEO site audit tool that could be used to crawl both small and very large websites simultaneously. The Screaming Frog also offers a tonne of benefits, right from analysing site enhancements and rectifying errors to filtering the way your web pages show up.
Price: Basic – Free and $209/Year for Advance 
Neil Patel's Ubersuggest is a best tool for keyword research that helps you discover keywords as well as the intent of the user behind them by displaying the top ranked SERPs. Having numerous suggestions from this excellent keyword tool, you can choose the ideal terms to utilise on the website, from short to long-tail keywords. Ubersuggest's insights include information such as keyword volume, competition, CPC, and trends in the market. This tool, which is useful both for organic SEO and paid PPC, may help you in choosing whether a keyword is worth targeting and how competitive it is.
Price: 7 days – free trial, $12/ monthly for Individual, $20/ monthly for Business, or $40/ monthly for Enterprise
Google Analytics (GA4) is a free web analytics service that provides tracking, in-depth statistics and analytical tools to optimise your website. Google Analytics' in-depth statistics bestow a lot of handy data about websites, such as audience analysis, acquisition analysis, behaviour analysis and conversion analysis, which makes it easier to craft an efficient marketing plan. Although Google Analytics has a paid version, the free version can help you manage your website's SEO. In doing so, all of your website's SEO data will be centrally located and compiled, and you can use queries to identify areas for improvement with the keywords and phrases that you want your website and web pages to rank for.
Price: Google analytics- Free and $12500/ monthly for Google Analytics 360
Google Keyword Planner (GKP) is one of the best free SEO tools designed to find high-quality keywords with sufficient search volume. Many experts recommend GKP as the best keyword research tool for SEO because the tool helps to find keywords with enough search volume to optimise your website to be indexed and ranked highly in the search engine. If you are in charge of an active website, blog, or e-commerce site, you can use GKP to generate more traffic, rank highly online and create paid campaigns, among other uses. 
AnswerThePublic is one of the top free SEO tools that allows you to easily search and find topics, phrases and a list of questions that web users are looking for around a particular keyword. With its comprehensive search cloud image of 5 Qs – How, Are, Which, Will and Can and its mapping fortunes consumers create well-structured and useful content for the website and blogs in ease of time. 
MOZ is a multi-compact SEO software suite for local SEO, site audits, rank tracking, backlink analysis, enterprise SERP analytics and powerful keyword research. Moz also provides access to best-in-class proprietary metrics, including spam score, keyword difficulty, page metrics, domain authority and free competitive research.  
Price: 10 days – free trial, $99/ monthly for standard, $179/ monthly for Medium, or $299/ monthly for Large and $599/monthly for Premium
Ever wonder how your competitors are running a smooth marketing strategy? Then, to get a solid answer and expose their tactics, SPYFU will be your right choice. Spyfu is often considered the best SEO tool for competitor analysis by many SEO experts because it helps you improve SEO and marketing strategies by exposing competitors' tactics and roadmaps. Along with the competitor's data, Spyfu also provides keywords and backlinks searches and data reports for your own site.  
Price: $39/ monthly for Basics, $39/ monthly for Professional, or $299/ monthly for Team
KW Finder is a best keyword research tool for SEO designed and developed by Mangools to help you discover the best long-tail keywords and easy-to-rank keywords to target a sweet spot of high search volume and low competition. KW Finder allows you to decide whether or not to pick up a specific keyword based on ranking difficulty, search volume, and other relevant data. 
Price: 10 days – free trial, $29.90/ monthly for Basics, $44.90/ monthly for Premium, or $89.90/ monthly for Enterprise
WooRank is a freemium SEO analysis tool that enables you to understand how keywords perform over time in order to optimise and align them as effectively as possible on search engines. Along with keyword performance, Woorank also provides extensive data on identifying duplicate content, downtime, security issues and guidelines to rectify them.
Price: 14 days – free trial, $79.99/ monthly for Pro and $199.99/ monthly for Premium
SEMrush's SEOQuake is an SEO evaluation and performance searching tool that provides insights into how your website performs on search engine research pages as well as the performance of competitors. Being one of the largest keyword and database providers, SEOquake also provides a keyword density report, internal or external link analysis, and social metrics.
Exploding Topics, created by Brain Dean and Josh Howarth with the motive of helping companies and businesses discover explosive new SEO trends on the web before they explode. Exploding Topics archives these new trends by analysing millions of searches and conversations on the net and social networks. With tools like Exploding Topics, you can be on the cutting edge of new trends before your competitors do. 
Price: 14 days – free trial, $47/ monthly for Entrepreneur and $97/ monthly for Investor
With the aid of Google analytic data, Animalz Revive helps you detect existing web content that is losing organic traffic and improve it. Animalz Revive accompanies each of the results with infographic details that show the decay element and timeline of how organic has changed. By upgrading the content, you can again increase traffic to your site without having to create new content.
Google Trends is one of the best SEO tools for a search feature that displays the popularity of a search term's rise and decline using real-time data in the SERP. Google Trends significantly lets you know the current trending topics and seasonal trends, monitor competitors and optimise your SEO strategy based on time, season and location.
Keywords Everywhere is one of the best keyword research tools for SEO that simplifies the process of determining the best keyword metrics for your website. Keyword Everywhere not only helps you find long-tail phrases, but it also helps you find related keywords with accurate search volume, competition data, and CPC, and it allows you to download the data on a monthly, weekly, or daily basis.
With the density of mobile usage, more and more sites make their content available in useful and accessible ways for mobile users. To improve its regular functionality, Google launched the Mobile Friendly Tool to help them keep their eyeballs rolling. The Google Mobile Friendly Tool is an absolutely best free SEO tool that Google makes available to help you check if each of the pages of your website can render content correctly on any device with improved SEO and a simple user-friendly experience on all devices.
Ayima's Redirect path is a free SEO tool that can cast-off quickly to check and monitor individual redirect paths of a URL.  The objective of Redirect Path is to inspect your redirects, malicious code and security in order to analyse and diagnose the issues to rectify them before they affect your site negatively.
Google PageSpeed Insights is a free performance tool that provides vital assessment data after conducting an in-depth inspection of the website based on feedback from real users experiencing performance assessment and diagnosis issues. The assessment score allows you to identify opportunities for improvement and recommend changes to your website. 
SEO is not an easy piece of cake, but if you cherish and experience the flavours, it edifies your website to rank at the top and be their first choice when users require it. Despite the fact that numerous SEO tools have been developed to improve the content and strive as an important way to gain a web presence, there are a few notable ones that make your SEO objective extremely simple. Thus, the best top SEO tools mentioned in this blog are judiciously hand-picked from among those few notable ones and are guaranteed to deliver accurate results, improve your keyword results, optimise your website, and secure search engine rankings. 
As previously stated, SEO is a difficult path to implement and maintain on a consistent basis. However, with our SEO in-house experts, we can guide you the best SEO tool and help your website to be incorporated with all the SEO ingredients  and effectively cater you to rank higher in the search engine.
Apto Digital is one of the leading digital marketing agencies in Bangalore, India. With the best-skilled digital marketing experts, we bestow an incredible lifestyle of working for our clients by aligning their revolutionary ideas and helping them successfully achieve their objectives. Our Experts have over 5 years of experience in digital marketing services. We at Apto have meta expertise in Search Engine Marketing, Search Engine Optimization, UI UX Design, Social Media Marketing, Pay Per Click Services, Email Marketing Services, Website Design and Website Development. With our fortune of expertise and digital lifestyle, we provide very cost-friendly digital marketing solutions with higher ROI for enterprises, SMEs, and startup's.